[spb_column width="2/3″ el_position="first"] [spb_single_image image="2394″ image_size="large" frame="noframe" intro_animation="none" full_width="no" lightbox="yes" link_target="_self" width="1/1″ el_position="first last"] [blank_spacer height="30px" width="1/1″ el_position="first last"] [spb_text_block pb_margin_bottom="yes" pb_border_bottom="no" width="1/1″ el_position="first last"]
Truffles Fine Foods awarded Top Catering Blog Award from FeedSpot
SERVING UP SOMETHING THAT is just right takes more than just skill. Creativity, fresh ideas, incredible resources, and a team effort all come together in Truffles' kitchen on an ongoing basis. They are the secrets to our success and the same can be said of our catering blog.
Since 2015, the social media team behind Truffles Fine Foods has been equally dedicated to bringing our clients quality content, interesting articles, and local events through our catering blog. We've shared charming weddings, up-to-date trend ideas, hot concerts, vibrant photos, and anything else we have been proud to take part in or share with you.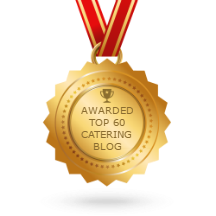 Recently Truffles Fine Foods was awarded a coveted Top Catering Blog award from the website FeedSpot. FeedSpot is the best way to discover all of the best blogs in one place without bouncing from website to website. Listed blogs are organized by category, and Truffles' blog has earned a top spot alongside other notable catering blogs from across North America and around the world. We proudly ranked 19th and know we can only keep going up from there!
Our entire team would like to graciously thank you, our readers and clients, for allowing us the opportunity to share with you. We hope you'll continue to follow along as we bring you more interesting content, recipes, and events. If you have a great idea for a blog post or if there's something you'd love to see on Truffles' blog, we'd love to hear from you! Please send an email with your idea or fill out our contact form.
[sf_button colour="accent" type="standard" size="standard" link="http://trufflesfinefoods.com/contact-us/" target="_blank" icon="" dropshadow="no" extraclass=""]CLICK HERE TO CONTACT TRUFFLES FINE FOODS[/sf_button]
[/spb_text_block] [/spb_column] [sidebar_widget sidebar_id="sidebar-1″ width="1/3″ el_position="last"]